Slowdown in Vietnam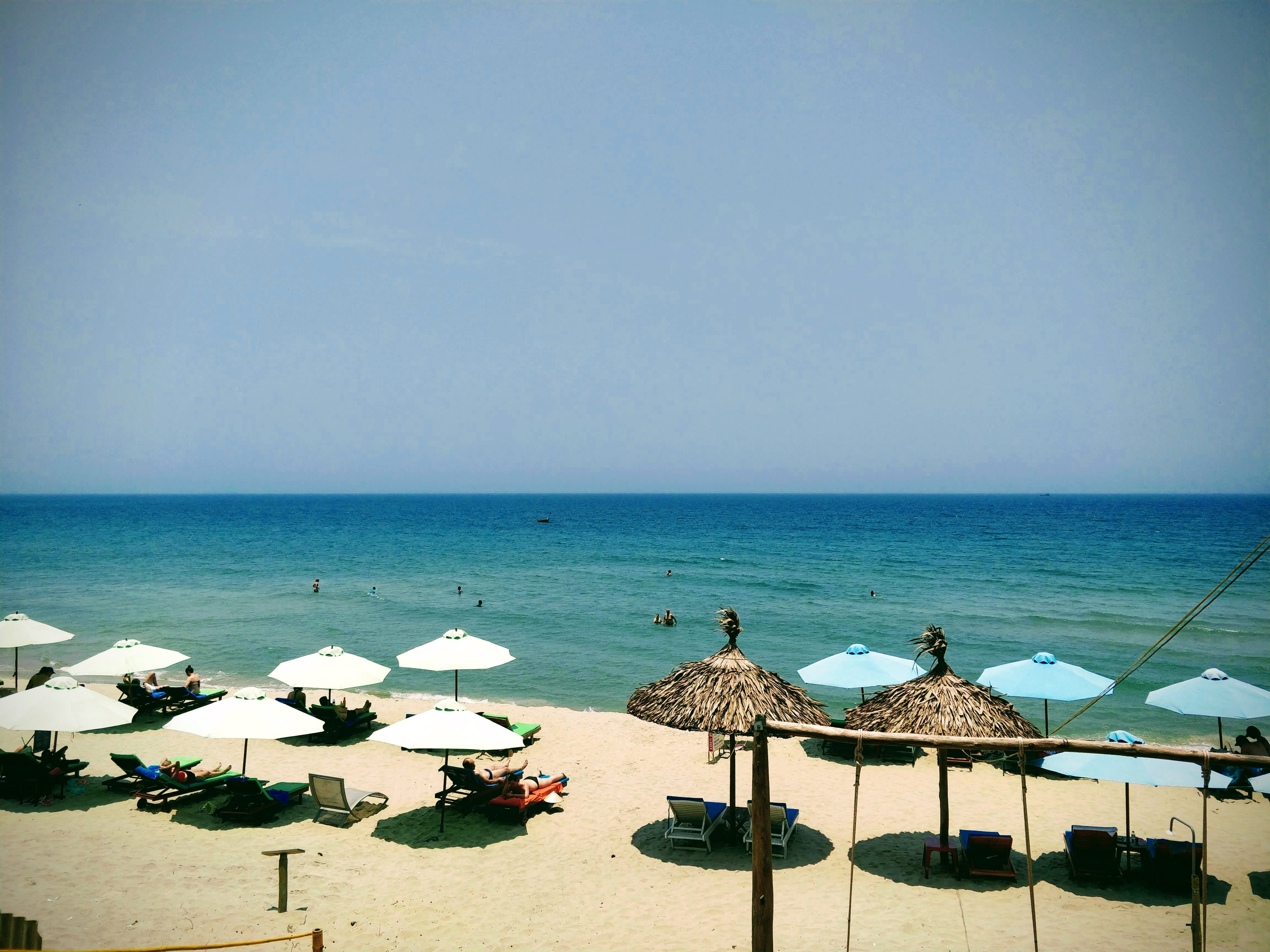 Experiencing first ever jump in open waters at Halong bay to kayaking, from witnessing the train pass through the train street to having dinner at Food Street, cycling through paddy fields and swimming at An Bang beach, visiting the war museum to sending a postcard home; Vietnam you are a beauty.
For some reason, I could not do my research about the country, before getting on the flight. However, my friends and online communities helped me through the stay. First stop was Hanoi and I was staying at the old quarters, so first day started off by visiting the lake in the center of the city, it's green and peaceful. At any given time you will see locals and tourists taking walk, relaxing and enjoying the view. In the morning the surroundings of the lake turns into an exercise arena where locals do Tai Chi and runners are busy adding up on their miles, it's a high energy place for a kick start to the day. This was followed with a walking tour through the alleys and by-lanes of Food Street, Long Biên Bridge, Train Street – watching the train cruise through while I was still having my coffee and then decided to jump on the track and walk a bit and the night market. It's spectacular how people maintain their calm within the chaos.
Next day was Halong bay day cruise, journey from the start was lovely, our guide was very knowledgeable and knew how to keep the group intact, we were a small group of 15 people from various parts of the world and by the end of it, felt like one family. We reached the dock around 11 am, our ship was well equipped with dining, sun bath and lots of music and there was a bar too. We visited the Capa caves, Lan ha Bay, did kayaking around some picturesque lagoons and jumped off the boat, it was my first experience jumping in open water and was thrilling, my group had been super encouraging and it will stay with me for a long time. Post our dip I enjoyed some music, dance and attended a group cooking class, where we learnt to make Vietnamese spring rolls. By the end of the day, we became one community and some of us extended it by dining together, at the old quarters. I also happen to try their street which was a mix of meat, some sweet potato Patti, mix cold coconut milk and noodles and it's a must try. The hostel I was staying, had happy hours in the evening and this was a time to catch up with all the inmates, it was a jamboree. The next day I left for Hoi An.
Hoi An is a beach town and definitely had calming vibes, had an advantage staying close to the old town, morning here are quiet and spend time visiting cafes and art galleries. One of my favorite café was Rosie's Café its best visited for breakfast or brunch and is always busy. There are load of cafes and restaurants by the river, for dinner and visual delight of the lanterns by the night. Mornings, I used to cycle at the beach and end up spending few hours swimming, enjoying a stroll by the shore and soaking the energy. Evenings would be spent at one of the roof top restaurants eating pho, spring rolls or sticky rice. I would usually stop by the cafes to fancy something sweet, what are holidays for, some sweet indulgences! Hoi An – a place to slow down and smell flowers.
My next stop was Ho Chi Minh City, its preserves history and yet modern, visited the war museum and had goose bumps. It's humbling to watch how the country has bounced back post the Vietnam War, respect to the people of the country who showed this level of resilience. The city has a lot of French influence and once such architectural marvel is their post office, from where I sent few post cards back home. It reminded of schools day, when letters were the only mode of communication and how I cherished those letters. Technology helps us to get closer however, let's slow down once in a while. Post this I visited the Ben Thanh Market, one can find everything here right from curios to clothes, spices to flowers, strolled around the walking street and visited few roof top restaurants. Happy and exhausted reached home. Next day, I had my last pho from one of the stalls in the nearby street and headed to the airport to catch a flight back home.
During my stay, I met with a lot of travelers and their travel ranged from few weeks to a year. Travels are enjoyable when we share our experiences. One such traveler was "Hope" from NYC, she was travelling for around 6 months and we were in the same hostel, I was lucky to meet her as she missed her flight to Malaysia, we got chatting and her energy was infectious, her stories ranged from her bags getting stolen to when her visa was expiring and her need to reach home. No matter, where we are and what we do, our travels remain close to us and in an unsaid way teach us something, I think all I need is to slowdown and enjoy the moment.