Varkala is good for health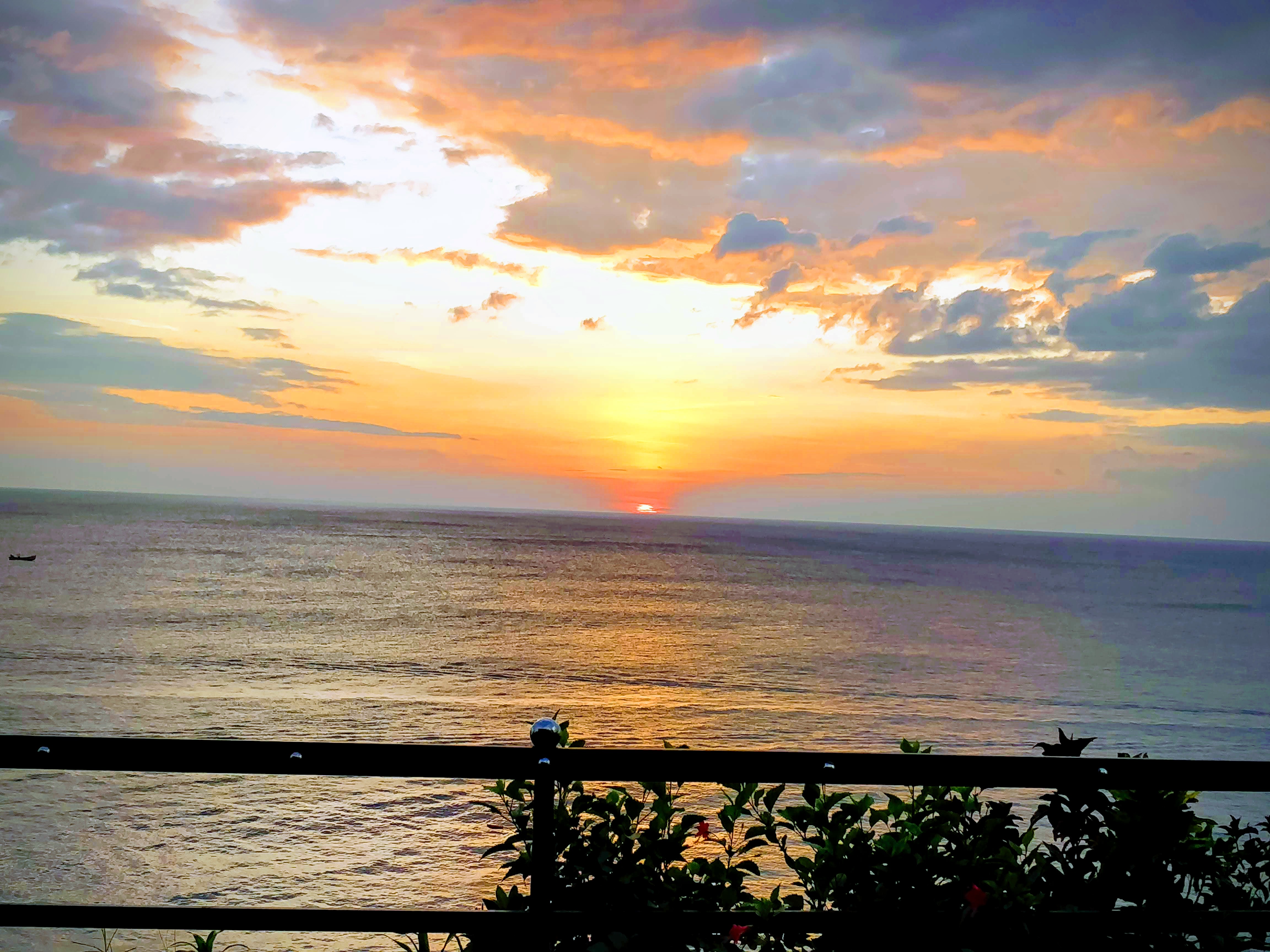 I visited Varkala last year during Christmas, the vibes there are so strong that this year planning my Christmas holiday was easy, I returned to Varkala. The people, cliff, shore and sound of waves are good for health.
Varkala is approximately 43 kms from Trivandrum airport. I took a train from Trivandrum to Varkala, it took me close to an hour by train. Revisiting a place has its own charm, I knew my routes well and even then the place had enough surprises for me. Tourists were much less compared to last year; however that did not dampen the festivities. I had booked myself at Palan Beach Resort, which is located in the middle of the cliff and my room was overlooking the sea.
View from my balcony
Once I unpacked, I headed off to the beach and the waves were right for a swim after my long journey. Life on the beach is simple; everyone is enjoying the sun, sand and smiles. After my first dip in the sea, I realized how much i missed it, post this i was happy to exchange few pleasantries with my fellow travelers and got comfortable to read and get some vitamin D. Hanging there for 2-3 hours, decided to head back to the cliff for lunch. Every cafe was preparing for the Christmas eve, the lights, music and tapestry was ready for guests. Post my siesta, i headed to black beach to watch the sunset, something is special there, it's romantic watching it linger for few more minutes before setting in the sea, no hurry just right to satiate your eyes.
I was having my evening coffee at cafe Italiano, where i met this girl who was travelling to Kerala to celebrate her birthday.It's always a welcome to meet new people while traveling, know about them and listen to their stories. Post coffee, I roamed around the familiarity of the cliff and then went for dinner at Trattoria cafe, was not too hungry and decided to have Thumpa and it was yummy! I went there again one of the evening for their coffee and dessert and it pleasantly surprised me.
Next morning i went for a run on the beach and extended the run in the by-lanes of the town, last year also i had ran through the by-lanes and the familiarity felt comforting, crossing the temple and the routes. Post run, coffee was at Temple Cafe, people had already started pouring in for their morning cuppas reading newspapers or catching up with fellow travelers. People here are very friendly and easy to talk, very person has a unique story to share and the stories are just a HELLO away. In the due course I met Anna and Vincent, they were traveling from Italy and France respectively and the sweetest company i had at the cliff. We enjoyed our time there over coffee, meals and cocktails. They had been in Kerala for much longer then me and knew the place better. We met at one of the vegan cafes – Puccilini, for breakfast and the food was delicious. They do their on organic farming and have a yoga school. There are a lot of places where one can take cooking classes and Ayurveda massages, can always try one of these things if you have time on hand.
Vincent and Anna
Now my routine is set, so went to the beach and had a good swim, spoke to fellow travelers. One of them was traveling from England and was here since a month, we spoke on various topics from staying alone to meeting other people, cuisines, dialect and culture. One thing i notice in all this is the need for being connected. Connection can be at various levels and it keeps changing on how we feel and believe about ourselves. By noon i got a bit hungry and went to the Kerala mess near the temple. The owner recognized me from last year and we were happy to share pleasantries. One of my favorite drinks there is pineapple juice, it's so refreshing and just right sweet, also i tried the mint, lemon smoothies at some of the cafes and it's a must try.
In the evening i met Anna and Vincent at the white rabbit cafe (vegan place), there was live music by an Argentinian couple, the ambiance there was lively and energetic and we all swayed to it a bit.
The next morning i decided to run at the beach, Varkala is a temple town, so morning at the beach has a peculiar routine, where people come to perform the last rights of their loved ones. One will witness pundits and families at the shore next to the temple, taking a dip in the ocean as a act of purifying themselves before their prayers.You will also witness fishermen, getting ready for the day and some of them are already in the ocean fishing their day's meal 🙂 apart from them I met a lot of people practicing yoga and swimming. Post the run, I went for my usual dose of coffee at Coffee Temple Cafe (yea the name; not a typo) :). Post which, i swam till i was soaked in sea, sun and sand. Met more fellow travelers, exchanged more stories,opened up a little more and enjoyed listening to people. We all need love and nurturing. For lunch, we went to town for some prawn curry and rice. Evening was at Darjeeling cafe, swaying to live music and more seafood.
The next morning Anna, Vincent and I had a hearty breakfast, post which Anna and I left for Trivandrum. I had a flight to catch for Bangalore. Reflecting back at my trip, in think Varkala special in its ways and will stay with me for a little longer.